Smart Solutions for Business
Certified Alarms is proud to announce that we've partnered with Alarm.com to bring you a full suite of interactive commercial services, specifically tailored to support the security needs of small and medium sized businesses. With professional grade security, energy management and video monitoring solutions, you get peace of mind knowing that your properties are protected and your businesses are running smoothly no matter where you are.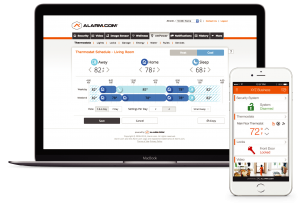 Professional Grade Security
Engineered for reliability, our patented Crash & Smash protection keeps your business protected from any service interruptions.
Auto-arming ensures that your system is always armed when it should be
Manage employee User Codes across multiple locations
Easily remove User Code access for terminated employees
Set automated arming schedules
Manage multiple sites in one centralized dashboard
Lock and unlock your back door for staff and deliveries
Image Sensors capture pictures of critical events anytime, day or night
Get notifications based on User Codes and remotely unlock and lock doors with commercial-grade locks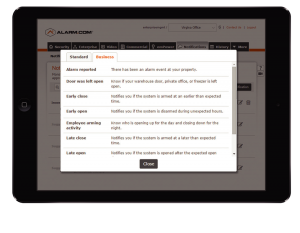 Business Insights
Alarm.com business insights deliver critical information to help you run your business more efficiently.
 Receive daily and weekly reports that summarize critical information about your business across multiple locations
Activity reporting analyzes your customer traffic allowing you to:

Understand what your busiest hours are
Track the impact of promotions on customer traffic
Maximize staffing efficiency

Open/Close reports summarize arming activity
Set your open hours and receive notifications if employees are arriving late or leaving early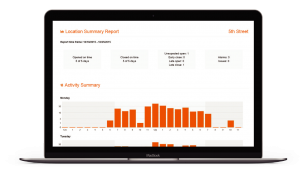 Commercial Grade Surveillance
Alarm.com's cloud-hosted commercial-grade video service, Secure-i, flexibly addresses the unique video monitoring requirements of your commercial property.
Reliable & Secure
Unlike traditional CCTV/DVR video surveillance systems, Secure-i provides reliable, off-site cloud storage that cannot be disabled by employees, or damaged if your business experiences a fire or flooding.
Cloud-based Recording
Secure, 24/7 cloud recording options eliminate the need for additional hardware and enables access to live and recorded video clips.
See Everything
Keep an eye on all of the important activity at your business. With single and multi-site viewing, live-streaming and recorded video, it's easy to monitor the key aspects of your business when you can't be there.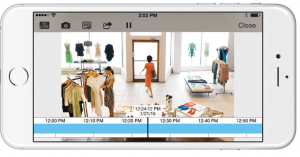 Energy Management
Reduce energy waste automatically and enhance liability control with commercial Energy Management and Automation services from Alarm.com. Having connected lights, locks and thermostats ensures that your business is comfortable when it's open and safe when it's closed.
Climate Control
Control your smart thermostats automatically, and on-the-go. Keep
your business at an appropriate temperature and prevent others from making changes.
Enhance Property Management and Energy Savings
Get notified when the thermostat setting is changed or the refrigerator door is left open to manage temperature and reduce waste. Use thermostat schedules to save money during closed hours.
Scheduled Lighting
Easily set up lighting schedules to keep your business safe and well lit, reducing liability risk.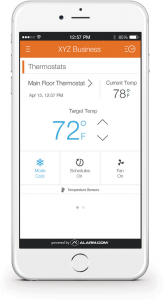 For more Information about Alarm.com and how it can help your business, please contact Ken Moen at www.certifiedalarms.ca or call (403) 253-7820